Seems I am slowly, but surely ( I know, don't call you Shirley), getting worse and worse picking games. What happens is I get a good batch of picks going and then I start overthinking things and pretend like I know blocking schemes, coverages, and other fancy football terms and what their impact on the final scores will be. So this week, I am getting back to basics, going with the gut, which has always worked for me throughout my life. Are you picking up my sarcasm, cause I am laying it on pretty thick. Anyways, welcome to the "Bitterness" weekly picks, now with less thinking!
CHIEVES @ TITANS (+3)-
I don't think many people saw either team being exactly where they are right now, record wise. I think the Chieves are the real deal here. I am not saying they will win the Super Bowl or anything, but Alex Smith has been, for the most part, more than serviceable and no one has given up fewer point this season than KC. Special teams and defense can carry you a long way in this league and I just don't believe the Titans are as good as their record indicates.
Chieves 23-10
RAVENS @ DOLPHINS (-3)-
If you asked me, before the season started, to pick every game for the entire season, I would not have even hesitated to pick the Ravens in this one. Even with the new look defense and Joe Flacco at QB. Yep, still not buying Flacco as anything close to the top tier of NFL quarterbacks. In fact, let me take this moment to say how silly I think it is how much Super Bowl victories are used as the lithmus test of QBs. After a 2nd Super Bowl title every one was quick to vault Eli into the upper echelon of NFL QBs....and how's that looking? Hmm? People need to listen to me more...60% of the time I am right
every
time.
Wait, what were we talking about? Cologne? Oh, Ravens-Dolphins, right. So, another problem with the standings and records, etcetera, etcetera this early in the season, is we don't necessarily know how to judge games. Are the Ravens really this bad? Are the Dolphins really this good? I'd answer a resounding "no" on both. The thing with the Ravens is, every game depends on what Ray Rice will do (a TD would really help my fantasy team, Coach Harbaugh. So maybe, I dunno, some goal line carries for Ray?) and thus far double R has been unable to do much. I feel like (hope, for fantasy purposes) this is the week we say the double R of old.
Ravens 17-13
JAGUARS @ RAMS (-11.5)-
Generally speaking, most people stay away from spread this big and with good reason. They are hard to cover and anything can happen in the NFL, week to week. But the Jaguars have been playing atrociously in those nifty World League of American Football helmets they have been donning this season. That is actually insulting to WLAF helmets, they were not as bad as the monstrosities on the heads of Jags players.
Well, maybe it's toss up. I guess if you're gonna be atrocious, you should look atrocious doing it? That's an expression, right? 28-2, 19-9, 45-17, 37-3. Those are the scores to the Jaguars four losses this season. I know, we all thought the offensive unit was putting it together when they put up that whopping 17 points in week three, but last week's field goal sure ended that hype. There is the possibility the Jags only lose by ten, so it is a tough one, but I think the move is picking the Rams.
Rams 37-6
PATRIOTS @ BENGALS (+1)-
Austin Collie...signed. Championship. I mean, assuming the Pats can get good production out of him before the next concussion. Collie jersey, now on my wishlist. Bengals beat the Packers...then lost to the Browns, combined with having to cover
the
Austin Collie, now? The pick seems obvious, right?
Bengals 23-17
SEAHAWKS @ COLTS (+3)-
Both teams sort of had their ways with the Niners, so this is tough. The Hawks are still certainly a Super Bowl front runner and I feel like you have to keep thinking that until proven otherwise.
Seahawks 27-17
LIONS @ PACKERS (-7)-
A
rested
Aaron Rodgers and company? At Lambeau? Are you ready for Lambeau leaps a plenty?
Packers 37-27
SAINTS @ BEARS (+1)-
I know the Bears are at home, but kind of surprised this spread is so low. Maybe it's just because I still don't trust Jay Cutler to carry a team in big games? Whatever the case may be, I don't trust Jay Cutler to carry a team in big games.
Saints 21-16
EAGLES @ GIANTS (-1.5)-
This is not the NFC East of yore. Nope, no slobberknocker here, this should be a good ol' fashioned shootout! Impressive that an 0-4 team is favored against a team who has won, albeit not much. Giants fans have had little to cheer about this season, and it the same will hold true this week. The question is, how will they lose? My guess is closely, on a late special teams gaffe.
Eagles 35-31
PANTHERS @ CARDINALS (+2)-
I stared at this matchup for about two straight minutes and came to the conclusion that this may be the coveted game of the week that I care the least about. I may change my tune though, if turns out to be as enthralling as last week's 13-10 Cardinals win in Tampa!
Panthers 16-9
BRONCOS @ DALLAS (+7.5)-
The Broncos really seem unstoppable thus far, with no signs of slowing down. The Cowboys have Tony Romo.
Broncos 31-14
TEXANS @ NINERS (-6)-
If the Niners want people to believe in them, they may have to start beating good teams again. Doesn't that week one win over Green Bay seem so long ago?
Niners 28-27
CHARGERS @ RAIDERS (+5)-
Due to scheduling conflicts with the Athletics, this Oakland game will be pushed back to 8:35....Pacific time. So,
now
, I have a reason to not watch this game. They say this could be a good test of whether or not this could be an every week type of thing in the future. I, for one, am all for the Raiders playing all home games while I am asleep.
Chargers 19-12
JETS @ FALCONS (-10)
- The Jets finally showed me that they are who I thought they were.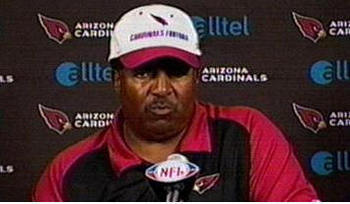 A really bad NFL football team.
Falcons 27-9